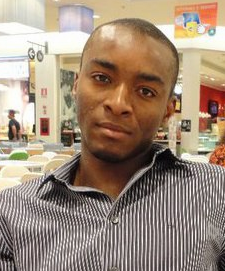 Hi Reader,
In a bid to introduce myself to my new found online home, please forgive me if I now go into a LONG boring spill about my online history. My name is Rob(erto) and I'm from Italy (even though I now hop and live around Europe). I am 34 and for some youngsters, I could be considered an old timer in the internet marketing world.
My journey to financial independence.
It all started over 10 years ago when I found a job ad in the local papers promising "few hours of work from home". I attended an interview in an hotel which turned out to be an Herbalife meeting. I had just finished a hard day of work at my local factory and ending it in a fine hotel with all these cool looking "enthusiastic people" made me feel like that was where I wanted to be. All these young people giving testimonials of how much money they made that month selling products etc. pumped me up and I signed up that night. I found out later how "realistic" those testimonials were when I had to rehease how to say them at meetings too.
Fast forward a few months and I was a bonafide road traveller and door to door seller. Attending meetings 60 miles (to and fro) from home once a week, spending all my earnings on retreats and trainings. I was doing product demonstrations in peoples homes, and collecting the names of their friends to go and do demonstrations to. I regularly sold products at these demonstrations and the money will go right to fuelling the car or food or bills. It was a hard time but the skills I gaines selling door to door I won't trade fore anything else.
After a few years of doing this, I the bright idea that, IF ONLY I WENT FULL TIME WITH THIS BUSINESS, I surely would be able to get even more product demonstrations set up, that should mean more income right???
I walked into my boss's office to quit.
He was surprised but told me he was relieved, he didn't know how to tell me I was going to be let go because of low work load at the company. I left and went home feeling like a full time work from home free man.
Fast forward a year and this Herbalife thing wasn't going too well. I was selling but I was not making full time income. Compounded by the fact that I had to spend 2/3 of the income on meetings, travelling and trainings. I needed a "real" job and soon found one at another local factory. My Herbalife business was now part time once again.
Now this factory (textile printing) was a place filled up with depressing negative people destined to work there all their life. I did 3 shifts which included graveyard. All I thought was about getting the hell out of there. I looked again online for a way out and found "MLM Traffic Formula" by Mike Dillard, Tom Bell, Tim Erway.
I believed that if I could take my Herbalife business online, I could generate leads and sell them my products without having to travel. These guys were responsible for me starting an online business so I am grateful to them. Speaking about paid traffic, something that Tom Bell said in that course stuck with me ever since. If you have a money making machine making you 2 dollars everytime you put in 1, how many times would you put money back in?
With the knowledge gained from that course registered my first domain in 2007. It was about weight loss (in Italian) and I sold an ebook for 20$ which was basically a pitch my Herbalife weight loss products. I believe I sold maybe 20 eBooks only over the lifespan of the domain. Thanks to Perry Marshall I dabbled into AdWords to push traffic to the site, but with little success. There just wasn't enough online traffic even for the weight loss niche in Italy back then and I needed something more if I was to ever leave my job.
Enter Affiliate Marketing.
So while looking for being online I got to know Peter Drew. An online marketer from Australia. He really showed some cool stuff. He had these suite of software that could generate many pages on BlogSpot, Squidoo, Hubpages etc. He would make these pages using the names of affiliate marketing products that were about to launch and carpet the first page of google with these sites. People usually search for these product names and if you could rank for them, you could intercept them and get them to buy through your affiliate link.
So instead of using these web 2.0 sites, I decided toown my own review domain which I registered in 2008. I was now in the launch jacking business. At one time, my product review blog was ranking on the lower half of the first page for "Affiliate marketing" alongside, Commission Juction and Clickbank. I never really got much traffic for that KW though, it was still early days and for me mostly bragging rights.
I have to thank Peter Drew and will be forever grateful to him for being the one to point me to the strategy that got me my first real income online. The income started to come in just in time because I lost my job at the textile factory due to non renewal of contract. I got to receive real Clickbank checks from the US delivered to my Italian tiny village. My mom could now touch and feel the result of all those hard long nights working online even when I had to go to the factory job in the morning. Those checks soon became bank transfers set up specifically for me as Italy wasn't on the list of direct transfer countries back then. Yep, I was making MONEYYYYYY.
Being very aggressive with link building, it came as no surprise that I got wiped out by first by Panda. It was 2011-ish and my 100-300$ per day review site was gone. This took me on a 1-2 year depression spell and my girlfriend supported me financially that time for which I am grateful. This, I believe is the root of my "procrastinative" nature as I felt totally paralyzed. After the first Google penalty hit, I adjusted and never got hit by any subsequent penalty, but I was never able to build a stable income. I kept jumping from one thing to the other with no real success.
…2013/2014, enter Alex Becker.
Now this was a guy that I found online and started following. He made videos from his bedroom (I later found out he had his mattress on the floor behind him) and showed how he was ranking his sites for stuff without any content, just by the power of high pr domains. I was amazed. He showed his money sites, PBN domains etc. Nobody did that.
I joined his forum and started seriously building my PBN. I think this is the only skill I have really taken to the MAX. I provided links to some seo agency guys on Beckers forum for a couple of years. It's funny that for a few hundred bucks per month, I was powering the rankings that those seo guys charged 1000s of dollars to clients for. I kept my link building conservative and the clients never got penalized. I am still tracking some rankings that go back all the way to 2014 with no penalties. That ranking data is the only reason I kept the serpfox account all these years.
So finally to round up this long ass boring write-up. I am now a married family man and these days I mostly make a living selling stuff online on amazon Europe. No FBA in the EU country I live in now so I make the 10 mins walk to the post office every day. Amazon has provided a stable comfortable living for my family while nursing my baby girl these last 2 years. It is thanks to Internet Marketing that I am able to be present with her EVERYDAY. She has now started going to kindergarten and I now finally have the time to pour my soul back into Internet Marketing.
My goal is to reinvest what I can from my amazon earnings into building solid assets online and I believe this is how to secure my future. I still get little checks from clickbank for work done years ago.
So what of my addiction???
I'm addicted to laziness and procrastination which I love so much. I have so much passion to go on a 3 hour apartment cleaning routine, as long as it keeps me from doing the 30 mins job that needs to be finished to see results in my business. It's always shocking to me when I finally get to do that "3 months old" thing on my to-do list and find out that it only needed a few minutes to a couple of hours only of time for f… sake….
I also have a bit of "shiny object" syndrome and even though I no longer horde Internet marketing software/ebooks/courses etc. on my hard drive, I find myself moving from one strategy to another.
Well I am going to beat it. You bet I am going to. I said to myself I am going to make this huge introduction post today and I DID.
Of course laziness and procrastination are never going to fully go away, but I am consistently trying to I hold myself accountable.
I have little to offer except all of the experience I have accumulated being self-employed online all this time. Any way I can help out here I will gladly do. In all these years I have seen people start from scratch and blow up to become mega successes. For some reason I have always remained in my 'ok' comfort zone, scraping up leftovers.
The time has come to finally push for the summit.
I'm going to use this site as a way to share all I have learnt in all these years of Internet marketing and SEO. I feel like  I never really made it on to the big scene because I held back to myself what I knew and remained a hermit. All that is changing now.
Please feel free to ask if you have any questions.
I hope you enjoy your time on my website.
Thanks and take care
Rob