How I added a 3.5mm TRRS Jack To My Jabra UC 750 USB Headset for Use With My Smartphone For Dragon Dictation.
Updated on May 27, 2019
I Modified My USB Wired Jabra Headset, Connected it to my Samsung Galaxy S4 and dictated more than 2000 words in less than 30 Minutes.
I just wanted to share with you my results with Dragon NaturallySpeaking today. I'm going to try to keep it short but we all know how hard that is when you use the Dragon.
I had the version 13 installed on my PC for many years now but just recently got back into it this year. At the beginning of the year, I started practising online how to type faster, but then after the first frustratingly "error filled" day, I remembered about the Dragon and decided that it will surely be a better use of my time to train the Dragon to be as accurate as possible. It was going to take me months to get rid of my bad typing habits, so I might as well just spend that time on Dragon. I'm currently dictating this text with the Dragon on my Jabra 750UC USB headset.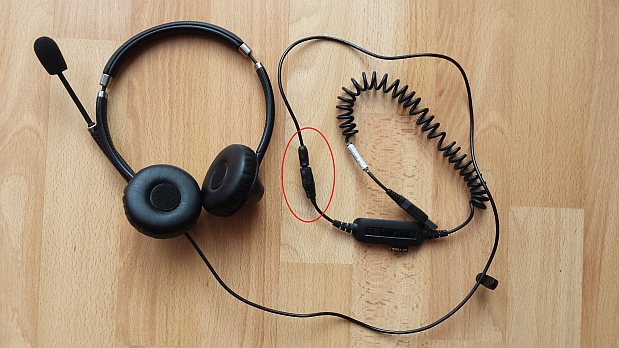 Everything is good on the PC, but I wanted to be more mobile. I wanted to be able to dictate while doing other things and away from my desk. So this took me down a deep "rabbit hole". I spent so much time searching for the best microphone to use with my cell phone (Samsung Galaxy S4) and my digital voice recorder (Sony ICD 312 PX). At the back of my mind however, the Jabra remained the best headset for me. It is incredibly light at just under 3 ounces, very flexible and contours to any position I put it on my head enabling me to use it as the two ear or one ear headset. I have actually forgotten I had the headset on a couple of times.
Unfortunately, it is USB and I can't connect that to my S4. I have tried OTG USB cables and paid recording apps without success. So what I did was to try and replicate the newer versions of Jabra which come with detachable 3.5 mm TRRS connector (the connector used by your phone). This inspired me to take a pair of scissors to my headsets' cable. I cut it in 2 and added in the male and female TRRS connectors needed (which I had in my scrap electronics junk pile). I did this before the USB pod so as to get the direct sound from my microphone to the jack.
I know this is a little bit complicated but with a bit of electronics/soldering skills, most people can get this done. However, I would recommend anyone that wants to use their mobile phones with a good noise cancelling headset to take the easiest route and just buy a very good headset like the latest Plantronics blackwires or Jabras that come with a detachable 3.5 mm connector to attach to your phone.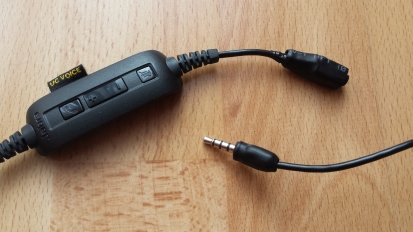 An additional Y-cable splitter is needed to connect the 1 TRRS jack to the 2 ports on most digital voice recorders.
I was afraid that the voice coming out of the jabra microphone which had not been processed by the USB pod was going to be like any cheap headset voice, but am very happy to know that I am maintaining a very good amount of noise cancelling even with this format. So I believe the newer headsets with detachable USB pods and 3.5mm connector (as long as they have good noise cancelling microphones), will remain noise cancelling even when you use them with the jack directly plugged into the phone or voice recorder.
I did a test this morning in the car and in a six minute drive. I was shocked listening to the audio. You wouldn't even tell I was in the car, talk less of a noisy one. When I got home, I decided to continue dictating (just like this transferwise review, most, if not all of the posts on this blog were dictated using Dragonnaturally Speaking) while I clean a bit around the apartment. I used a broom instead of vacuuming so I could get better sound for my dictation.
So in total, for a six minute drive and 20 minutes of home cleanup, I got 2159 words with an accuracy of above 96%. I'm very happy about this especially since I got away with not buying a new headset and cluttering my office with more stuff.
After cleanup, this text is an update to my pay per lead client seo case study that I've been procrastinating to write for weeks now. I was already thinking of how to make time to dictate it later in the day, but now it's already done and it was actually done while doing something else as well.
The beautiful thing about this whole process is that I can quickly disconnect from my setup if I need to go away from my desk but keep the headset USB dongle connected to my PC and Dragon will think my microphone is still connected. This is very useful for whenever I want to go around dictating more content but I want Dragon to transcribe earlier recordings with my profile which has the Jabra headset as dictation source.
I hope this inspires anyone that wants to become more mobile with Dragon NaturallySpeaking. It is possible to use your cell phone (and digital voice recorder) to get very good quality "noise-less" sound using a good noise cancelling headset that plugs directly into it.
Until then, take care.
Rob
PS: This is a first draft dictation. It will be formated soon.
UPDATE: I have linked to a video MP3 file where you can listen to the difference in noise between the phones internal mic and my Jabra headset while I dictate to my phone while standing BESIDE a working clothes drier. The audio is not altered in anyway.