Monster Truck SEO Review & Teardown
Updated on May 27, 2019
The Product: Monster Truck SEO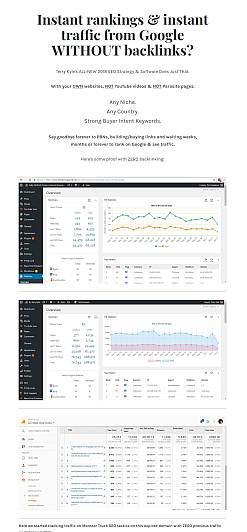 Created by: Terry Kyle

Price: $99.50 Per Month
Website: http://monstertruckseo.com/
Welcome to this in-depth teardown of the latest product by SEO veteran Terry Kyle. Terry is the kind of marketer that is always going against the grain. His "unconventional" posts, tests, case studies and insights into SEO have totally changed the way I look at it.
His post on expired domains blew my mind and I have personally tested this and will post my already gotten results soon on this blog. For now, you can check out my case study on if expired domains maintain their age,  power and rankings when registered afresh.
When I found out about his latest monster truck SEO course, I quickly jumped in no questions asked. Having looked through the whole course, I can assure you that this will be a no bullshit review and by the end of it you should know if this new monster truck SEO course and tools is for you or not.
You can jump right to where you want to read using the easy navigation link below.
Listen to This Post. In a Hurry, Download For Later.
Monster Truck SO By Terry Kyle.
The basic premise of this courses is that after going through it, you will be able to easily create mass paged websites that target and rank for a lot of very very niche/longtail keywords most of which are "first-time-ever used" search terms on Google that no one is targeting with SEO. Terry claims that backlinks won't be needed to get these rankings.
Ranking for this many keywords should culminate in a "very quick to come"  flow of traffic as you can see on this screenshot of one of Terry's test websites. You are basically going to start showing up for keywords that people are currently searching for which there is little to no results. This means you can now quickly become the big fish in a small pond.
Now, this may sound and look all cool and glamorous on the outside especially if you see all of the results Terry shows on his website. I'm going to tell you right now that if you think there won't be any work involved in getting such kind of results and that you will just buy this course and magically start generating tons of traffic and money, please take my advice, close this page and forget about buying this product or any Internet Marketing Course tbh.
The monster truck SEO course, the keyword-generating software and WordPress auto post plugin have been created to give you the exact route to take as well as the tools needed to simplify the task. Having said that you will still need to invest time into niche and keyword research as well as buying the many domains (most of which will be duds) needed to test rankings until you find the winners. Terry suggests using cheap .info expired domains for testing and these can the bought for a couple of dollars each.
If you are dedicated and think you can focus on applying what Terry teaches then you should have no problems generating websites that will bring traffic and income (more on that later).
Video – A Look Inside The Monster Truck SEO Members Area.
Follow along as I show you what is inside this product.
What You Get With A Monster Truck SEO Membership.
As a new product, it's still in beta testing and is ever expanding and improving. Included in the membership you get access to most of the services/ courses/tools created by Terry Kyle over the years. This is meant to replace the individual services and combine them into just 1 paid membership with no significant price increase.
Here is what is included:
The Monster Truck SEO Course Itself
(A series of step by step posts and Videos). Containing 18 modules, this is the main training that goes through the monster truck SEO strategy. It's mostly made up of case studies, tests and result screenshots. Here you get to see the exact websites keywords and traffic gotten by Terry using the system.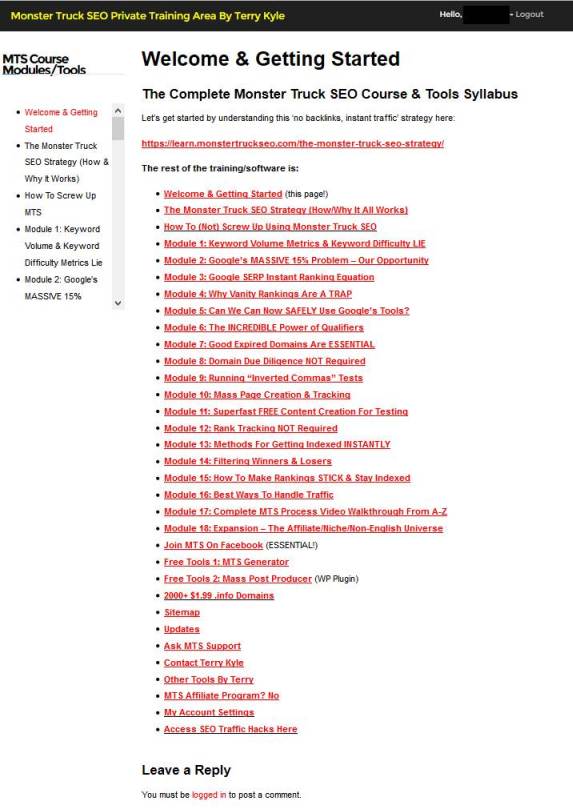 A Keyword Generator Tool.
This is an online based (no downloading needed) mass keyword generating tool which basically takes in your seed niche/keyword and spits out a many longtail and local keywords. For the local keywords aspect the countries currently supported are the USA, UK and Australia with Germany Spain and Canada coming soon.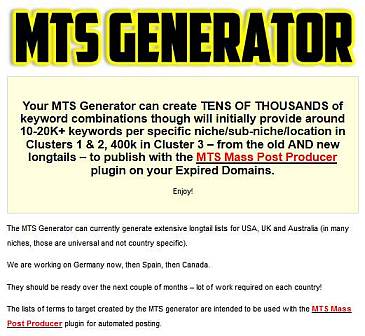 The Monster Truck SEO Mass Post Producer
This is a plugin for automated posting to your wordpress blog. Once you get a list of keywords from the monster truck SEO keyword generator, you can insert them into the plugin (which you install on your WordPress blog) and it will start creating individual pages loaded with videos targeting each and every one of the keywords you fed into it. The pages it generates (maximum of 100 posts per day) are basically skeletons with your keyword and related videos. Based on the results Terry has gotten with this method, this pages actually rank for these longtail keywords (obviously due to them have little to no competition).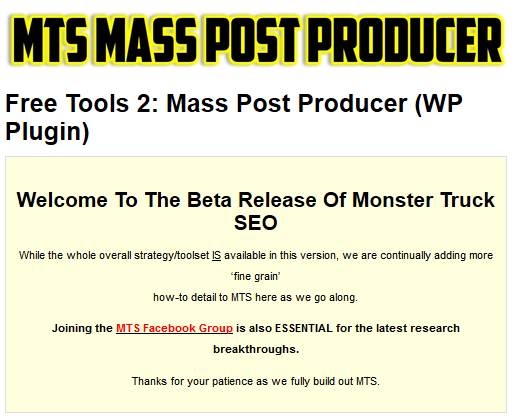 Here is a sample page it generates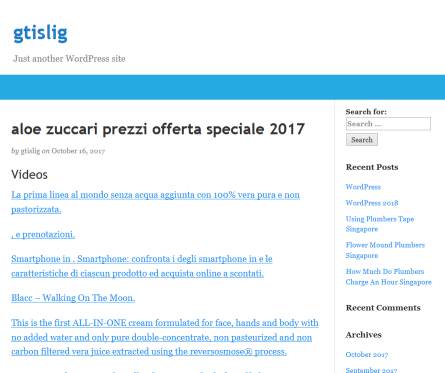 A word of advice (this is also mentioned specifically in the course in the "module 16 best ways to handle traffic to master traffic SEO pages"). The pages generated by this plug-in may look spammy and even though there are a ton off these type of video directory / video reposting websites online and I personally we only use them to test to see how much traffic and from which keywords it comes. Once I get this data I can then go ahead and create perfectly optimised quality pages on a quality domain to rank for this keywords.
Access To The Private Seo Facebook Group.
You will get access to a closed Facebook group where you can get direct support from Terry and his team as well as share the latest strategies and knowledge on SEO with other members.
If you've always wanted to join multiple Terry kyles service/product subscriptions then you are in luck because here are other tools and services you can now gain access to as a member of monster truck SEO:
Blue-Chip Backlinks.
This is an online based software that scrapes the Internet for expired domain suite back links from highly reputable websites. This is a very powerful strategy as I have tested. Once the domains are registered for the price of registration in some cases on the 10 box, you host them and bring them back alive.
Once Google indexes them it gives them credit for all the links they had have accommodated on the Internet. These domains can then be used as money sites (in the case of this monster truck SEO strategy) or has blogs in your private blog network. I believe this cost $99.99 on its own but you can now get it as a member of the monster truck SEO.
A Look Inside The Bluechip Backlinks Expired Domain Scraper Tool.
Take a look behind the curtain and see what's inside this online software.
SEO Traffic Hacks.
SEO traffic hacks is now fully replaced by the monster truck SEO course. This used to be a membership site where Terry boasted his latest techniques and strategies on ranking websites and getting traffic. It was very underground and most of the teachings were highly controversial simply because the busted up many myths about SEO by providing results with unconventional techniques.you will get access to this huge collection of training techniques and case studies with your membership to the monster truck SEO course. my only advice for this is that if you're afraid of information overload then don't open the link to the SU traffic hacks page because you will be there reading and learning for weeks or months and not taking any action.
Access Email Marketing Academy.
This is a course about email marketing. Collecting emails from the traffic on your monster truck seo pages is a long term beneficial strategy, especially if you currently dont have a correct monetization strategy in the begining. You can later on send relevant offers to that list and nurse it till it becomes a valuable asset. Here below is a screenshot of the modules contained in it.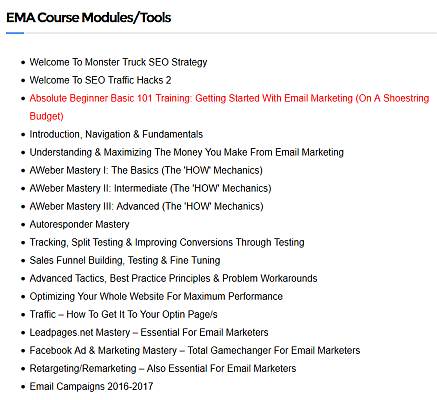 Ready To Register Expired Domains.
You'll get access to a list of about 2000 expired .info domains whih you can register for the ost of registration. These domains can be used for testing the strategy and seeing what sticks.
What I Dont Like About The Monster Truck Seo
As always, nothing is perfect. The most important thing I believe is not covered in the very detailed way in this course and which gives it the feeling that it stops abruptly in a cliff hanger is the lack of concrete training on monetising the traffic that you get.
I fully understand that this is an ongoing course and surely this information is going to be provided. I also know that in the SEO traffic hacks membership which you get access to as well, there is some training on monetisation. However I would like Terry to continue where he left off and show us exactly how he's turning this traffic into income.
I already alluded to the fact that I personally will use this strategy to find keywords that I can see generate traffic and use them to produce better quality websites on which I can display Google AdSense or any other third party ads. I could also use Amazon or other affiliate links as well as CPA (cost per action) offers to convert the traffic into income.
The big hurdle in Internet marketing is getting traffic to your website. When you finally do, you could suddenly find yourself without a working monetisation strategy. I hope this is cleared up in the course with the updates that Terry will be adding. I am also sure that members of the facebook group will be posting their various strategies and tests for others to learn from.
In Conclusion
So the monster truck SEO strategy in summary entails:
Research the keyword/niche
Inserting it into the keyword generating tool to get longtail as well as local variations
Get an expired domain with the some authority/back links in the eyes of Google.
Install a blog and a mass post creator plugin then generates pages with the list of longtail keywords you have.
Index the website, get rankings (as there is currently no real competition for most of these keywords) and start tracking traffic to use as you please.
As simple as these five above listed steps are, you really do need to take action if you want to see any results from this course.
Is This Course For You? Only You Can Answer This Question.
If this is a strategy that you think you can follow through then my advice is yes buy the course. If you have many other things in mind and you think you won't be able to focus on one strategy then I will advice you don't.
It all boils down to how much dedication you have to making money online. Terry has exposed his strategy in this product, he has provided you the tools and has even showed the results he got using the strategy. It's now up to you and I.
I will personally buy a domain for this strategy and will create a case study on this blog which will document my progress as well as any results I get following the method. Please check back if you're interested to see this.
My recommendation in this review is not hard to make at all simply because this is a results-based course. No fluff and no bullshit.
If you want to familiarise yourself with Terry Kyles' style then I would advice you to visit his blog here. There are many free tips already provided there and when you're ready to take it to the next level then you can join the paid membership course.
Thank you for making it this far down the review. If you have any questions or want to know anything specific about the course then please feel free to ask in the comments section here below. I'll log into the members area and get a real answer for you. if you have anything else to share with us about this product product in general, your comments will also be very much appreciated.
Thanks for visiting my site and I truly wish you all the best in your endeavours.
Rob