Transferwise For Amazon Sellers. Is It Safe? My Experience & Review 2018
Updated on May 27, 2019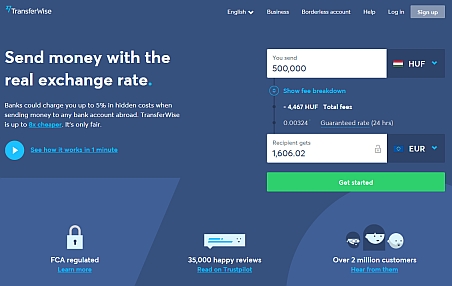 My Journey As An Amazon Seller To Getting Paid In My Local Currency.
Summary and Verdict On Transferwise
Here is a quick summary for you in case you are in a hurry and quickly want to see if Transferwise is for you or not.
Is Transferwise Safe And Do I Recommend It?
Yes, I absolutely do recommend it. So far, (9 months of use) all transactions have been quick and the system has been very reliable so I consider it pretty safe. It has helped me avoid what would have been very expensive solution when it comes to collecting my Euro payments from Amazon while living in a non-euro zone country.
The Total Amount Of Payment Received Using Transferwise So Far In 2018?
Here below is the exact figure that shows the total transaction amounts from my Transferwise borderless bank account to my Hungarian Business Bank Account (It excludes transactions where I send money from TW to other accounts, friends, family etc).
From the 1st of January 2018 to the 15th May 2018.
I have transferred €6356 so far.
Transferwise charged me €45.72 in Fees total.
Leaving me with €6310.28 with was converted to Hungarian forints by Transferwise with a conversion rate that ALWAYS EXCEEDED that offered by the Hungarian National Bank for the day. No Losses incurred during conversion. I have actually profited by a couple of Hungarian forints per Euro everytime.
How Much Do I Save Using Transferwise?
Here's a rough calculation of this: If I sent that €6356 Directly from Amazon to my local Hungarian account and Amazon offered an average conversion rate of 1 EUR= 305 HUF Then I would have received 1938580 HUF.
With Transferwise average conversion rate of 1 EUR= 311 HUF I get 1976716 HUF saving 38136 HUF or roughly 125 EUR.
Removing Transferwise fees of €46, I save €79 cash in pocket. This is a very conservative calculation not taking in consideration other losses or the true conversion rate offered by amazon/my bank.
 Speed Of Money Transfer?
I received money in my local hungarian account within 3-4 hours max whenever I made a transfer. I was pleasantly surprised this was the case even on fridays. The money always arrived before end of day as long I I sent it before 12-1pm.
Communication And Support?
Communication with Transferwise has been great especially when I needed their help while setting up my account. Responses arrived within 3 hours of emailing them.
Click Here To See Your Transferwise Conversion Rate And Fees For A Transfer And Compare It To What Your Bank Offers.
Read on to follow my story from the begining. You can also jump right to where you want to read using the easy navigation link below.
Intro – Transferwise Borderless Account Review
While this can be technically considered as a sort of review of TransferWise borderless account, it's actually a real-life experience that will take you through my setting up of TransferWise business account in order to receive payments from my Amazon seller account. I have an account and sell in Amazon Europe, but the following process will be the same for any other company you wish to receive money from making sure to avoid the unfair currency conversion fees that traditional banks are well known for today. I hope this post helps you too.
So here is my journey to setting up a "non traditional" bank account to collect payments from my amazon seller account. The journey began late last year (2017) when I finally decided to set up a real business account for my Amazon selling business.
My business is currently registered in Hungary where I reside. I have up till now been collecting Euro payments from Amazon to my Italian Euro account. We all know about the horror stories about the Amazon transfer and conversion rates/fees when dealing with local currencies other than the currency used to make payments by the local Amazon country.
I started getting worried after almost 3 years of trading on Amazon and 2 years of business registry in Hungary, that receiving money from my Amazon store sales to a personal account in Italy wasn't the smartest thing to do tax wise.
The only reason why I did this for so long was because I opened an EUR account at an Hungarian bank two years ago thinking that I'll simply need to inform Amazon to pay my business earnings to Hungary in euros. Amazon terms and conditions say otherwise. Amazon will only pay you in your local currency no matter what currency your local bank account is in.
This quickly escalated to a full blown headache and as my earnings from my Amazon store are over €20,000 per year, the Amazon conversion fees will be a huge blow to me. I decided to continue collecting my payments to Italy since the local Italian currency is euros. This way I don't lose any money using the Amazon currency conversion rate to Hungarian forints. I was ready to lose money whenever I withdrew from my Italian bank card, hoping that it was a smaller and more manageable loss.
The second and most important reason why I decided to go legit in December 2017 and set up a real business account to collect my payments from Amazon was, taxes. If the Hungarian tax authorities ever decided to check up on my business, then I will be in a bit of bother considering that all transfer statements for my Italian account will be in Italian.
That is not an official Hungarian language, obviously. the Hungarian tax office only accept documenting English and Hungarian.
This will mean huge translation fees and a lot of bureaucracy. So one and a half years of collecting payment with my personal Italian account was enough. Even if I were to be controlled by the tax authorities and asked why my bank statements were in Italian for the first couple of months after I set up my business, I could simply put it to newbie mistake and while that is not going to be obviously accepted by them, it will be understandable and I will only need to translate the couple of documents if needed.
So What Were My Options?
The first possibility for solving this problem would be to set up a business account in an Euro-zone country so I can continue to collect payments in euros from Amazon. The hassles of that will be simply to great to justify the cost savings.
So I turned to the new online bank services for a solution. I always had WorldFirst in mind as an option since many Amazon selling courses promote them. While looking through the Google results for world first and to see if if any other Amazon seller has successfully used world first to receive payment from Amazon for their sales, I stumbled on this thread on the Amazon seller forums.
One of the replies mentioned Transferwise and that they had successfully received payment from Amazon using it. So my focused turned to Transferwise and I started to read up on it. I was very impressed with the low-cost conversion rates and fees so I got serious and registered an account. Looking at my diary, I can see that I set up my Transferwise account on 1 January 2018.
The Process To Setting Up My Transferwise Borderless Business Bank Account.
I suspended all sales to my Amazon store by using the "go on vacation" option. This was to make sure that my Italian account didn't get any payment until I setup my transferwise account. If you're a seller on Amazon, you know how strict they are about bank accounts. I knew I was going to have to go through a validation period once I added another account and the transferwise business validation period was also there to consider.
So having made sure that no payments were sent from my Amazon account, I went ahead and removed the Italian accounts from it as well as the credit card for billings. The new billing credit card was going to be from my business account in Hungary.
The business account setup process for transferwise was pretty smooth. I was asked to upload the photo of an ID. I uploaded a picture of my EU driving licence and it was confirmed and validated within the minute by netverify by Jumio.
After that, I had to send my business incorporation documents which showed the business name and the business registration number. I didn't have such a document in English, so I simply used the Hungarian original document scanned and annotated to point to the registration number and business name with a red arrow.
Transferwise was very cool about this and they accepted the document as an official incorporation one. I remember when Amazon asked for a similar document from the Chamber of Commerce to prove my new business account, I had to get it translated and authenticated. Let's just say, that was not cheap. I was very glad that transferwise accepted an annotated Hungarian version and started to feel that this was going to be good company to deal with it.
Next, I was asked to show proof of MY address. This entailed uploading documents to prove my residence. Such document could be a home utility bill, a bank statement or any other government issued document that shows your address. This has to be the recently issued document (document issued in the last three months I believe).
As I currently live with my wife in Hungary and my home base is Italy, I always struggle to provide such documents. All my utilities are for my home in Italy. One of these days I will have two put a utility bill on my name here so I can finally resolve this problem in the future. luckily our cable contract is about to expire so make sure to renew it in my name and problem solved.
My only option left was to upload my bank statement.
I went to my local OTP bank with my daughter and we waited in line for almost an hour for our turn. I decided to use a bank statement from my Hungarian business account since I wanted to kill two birds with one stone. I wanted to have a full statement from the very beginning of account creation so as to have documentation of all tax payments stored in my file folder at home. When the bank teller mentioned that each month was going to cost me almost a Euro to print out, I decided to go with the last month just to be able to have a document that contains my name and address for TransferWise validation.
When we got home I quickly uploaded the file and TransferWise got back to me mentioning that they actually needed the proof of residence for my personal name and not my business name. Ooops.
Having decided that I was not going to go back and line up at the bank, I logged into my home banking and was delighted to find out that the official downloadable bank statement from the online system looked very professional. It had the bank's logo and all my personal address details in the header. I decided to upload this document and was ready to actually go to the bank if TransferWise didn't accept it.
TransferWise accepted this document as a proof of my address and my account was finally set up.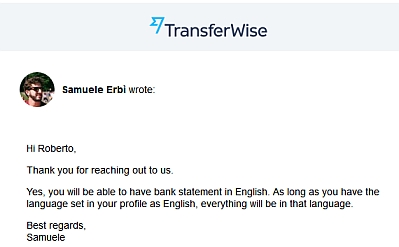 So all in all, the setup of my TransferWise account went very smoothly and the more I used the system, the more I really got to like it. One of my main worries was that all business transfer bank statements should be available to me in English for tax purposes. I contacted the customer support service to confirm this when I found out that my new borderless account was based in Germany.
I was worried that I would get German bank statements and that would defeat the purpose of opening such account. Samuele (thanks for all your help), from support got back to me in just a couple of hours reassuring me that my bank statements will be in English. Every time I contact the TransferWise I got the response within three hours. This really is a new and modern way of relating with your bank. I like it.
Setting Up Transferwise In My Amazon Seller Account.
So now came the big event. The time to finally see if Big A will accept my new TransferWise borderless account. I log into my Amazon seller account and start the process of inserting my new bank details. After a few tries with my business account name being denied by Amazon, I realised that the system didn't accept the " (quotes) my business name contains. I delete that and the process was smooth from then on. I insert my business name, and my new TransferWise borderless account IBAN and Swift code.
So now I wait for Amazon to send me a message requesting me to send them an official letter from TransferWise detailing my account opening. I remember Amazon did this to me the first time I inserted the bank account and I had to ask my mom in Italy to go to our bank to get an official bank statement. Well, that message never came from Amazon because the account was immediately accepted. Hooray!!!
I quickly set up the same account for all my European regions as my store currently sells to the UK, Germany, France, Spain and Italy. I need to collect payment from all those regions and while it is possible to open a UK borderless account in TransferWise, I am currently only using a euro account for all payments. This means that there will be a conversion from the UK Great British pounds payments and I'm going to update this post with that information as soon as I get a GBP payment.
Once all that was done, I could now reactivate all my offers and the sales started slowly creeping back in.
From then on I could only wait and see if Amazon will pay me to my TransferWise borderless account. Obviously, if they accepted the account details, they will pay as well. But it was very interesting to see the process and how much time it will take and how much it will cost me to my money from Amazon to my pocket.
Amazon Pays Me. Woohoo, Success!
So I impatiently wait a couple of days till my seller account generated just around €400 in sales. Finally, on Monday, 15 January 2018, I couldn't wait any longer and used the Amazon request payment service (In the EU amazon seller system, we can request payment anytime) to get my first payment sent to my TransferWise account.
I just couldn't wait to see how it all worked, the time needed for the transfer and most importantly, the fees. The standard Amazon payment transfer time to my Italian bank account was 2 to 3 days. This was the same to my TransferWise borderless account (which is based in Germany). On Wednesday the 17th, TransferWise sent me an email confirming that the payment was received from Amazon.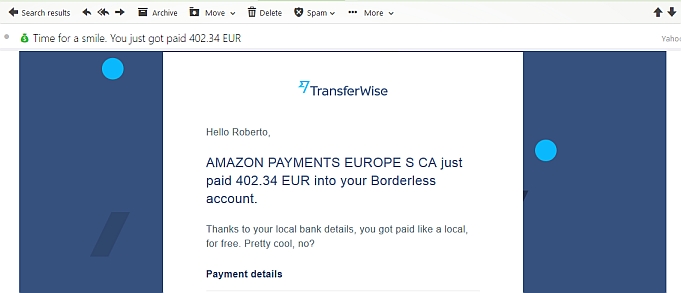 Sending Money To My Local Hungarian Bank Account. From EURs to HUF.
So now came the time I was waiting for. Time to send money from my TransferWise account to my local Hungarian bank account. This proper process involved me adding my local bank account to my TransferWise account. I added my Hungarian business account details and my Hungarian euro account bank details as well.
I know that every payment received from Amazon for my business consists of one third pure profit and two thirds cost of goods and taxes. I decide to send two thirds of the €400 paid by Amazon to my Hungarian business account. The funds in EUR have to be converted to Hungarian forints.
I sent €266 to the business account that same day and as mentioned by TransferWise in the transfer preview, it took under three hours to transfer money from my TransferWise borderless account based in Germany to my local Hungarian business account. This means that the total time to receive money from my Amazon seller account was less than 50 hours.

The cost of the transaction based TransferWise was just under 2 euros. The official currency conversion rate of the Hungarian Central bank (http://mnb.hu/arfolyamok) was 309.5 forints to 1 euro so according to the Hungarian National bank my €266 sent by TransferWise to my local business account was to be 82,207 Hungarian forints.
TransferWise preview of how much I will get transferred to me in Hungarian forints was 81,576. This coincides with the removal of the 631 forints (under 2 euros) which TransferWise collects as fees. A quick calculation reveals that after TransferWise fees the final amount of money sent to me which I receive in my local Hungarian business bank account was more than I ever got from my previous method of withdrawing cash with my Italian bank account card at the local Hungarian ATMs machines.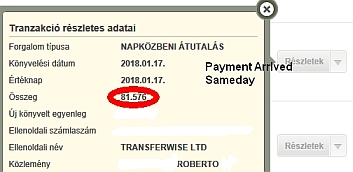 I don't know why I always thought that I didnt incur fees whenever I withdrew money from an OTP bank ATM machine with my Italian bank card. Paying with the same card in shops gave me a very very good exchange rate. One or two cents lower than the official national bank exchange rate. So I thought that this translated also to withdrawing money from ATM machines.
A few days back I decided to withdraw money from a different ATM machine at another bank. After a few days, I log into my online banking system because I wanted to see if there were fees associated with withdrawing from a different bank. I found out that I was charged almost 9 euros for withdrawing around €200. This was absolutely shocking to me and I decided to dig down deeper into my bank statements online to see if similar charges were collected by OTP bank as well.
To my pure shock, yes, OTP bank as well collected similar conversion fees for using the ATMs and I have been doing this a couple of times a month for about 5+ years now. I almost felt like slumping down to the floor and crying like a child. A rough calculation of how much money I actually paid in fees for using my Italian ATM card in Hungary to withdraw money was???
Well it actually didn't take the time to make that calculation as I didn't want to fall into a spell of depression. I guess we all learn various things the hard way in life.
So this process with TransferWise also opened my eyes to this. TransferWise has sealed a huge hole in my pocket and I'm highly grateful to them for this.
How Does Transferwise Work? – Exactly How To Withdraw Or Transfer Money From Your Transferwise Borderless Account.
Here are the exact steps to take if you want to make a transferwise money transfer from your borderless account to your local bank. This is the final part of the journey of your money before it arrives into your pockets. I have taken a few screenshots of me performing a transfer and I hope it will help if you finally decide to go the TransferWise route.  Obviously, the same process will be followed if you were to send money to a different recipient other than you.
You Need To Add Your Bank Account Or Any Other Recipient.
First you need to insert your local bank account number and details into your TransferWise account.  There are two options to getting paid out from your TransferWise account. You will need to add your bank account or the account information of a different recipient.
If you want to withdraw money to your own account, then you choose the first option "Add your bank account". You can use the "add a recipient" option to send money to anyone else (including you, I believe).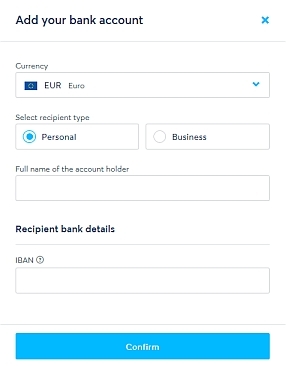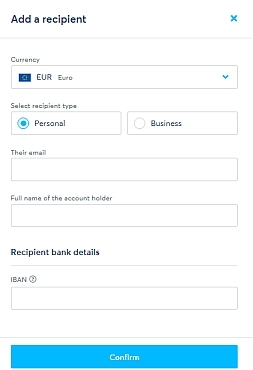 Then add your bank account details, you will need to choose if you want to send to a personal or business account.
Next you add your full name and then you insert your IBAN number and TransferWise will figure out and compile the rest of your banking information.
You can fill in multiple accounts and choose from them whenever you want to transfer money out of your TransferWise account. In the case of adding a recipient which could be you or someone else, you follow the same steps and you will be required to insert in addition, the person's email address. The email address can be used in the future to send money without the need to fill in bank account details.
1. How Much Would You Like To Transfer?
Now that you've setup your bank accounts and or recipients, from your homepage you can click on the "Send Money" button to begin the transfer. You will be presented with the following screen shown below asking you how much you would like to transfer. Fill that in then press continue.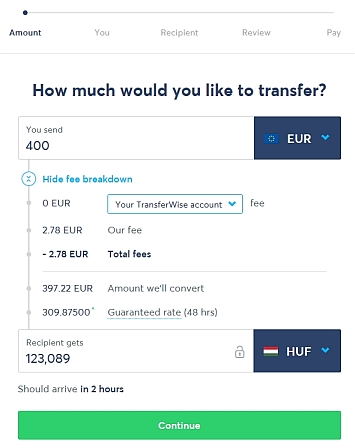 2. Who Are You Sending Money To?
Next, you will be able to choose where/who to send the money to. Select an option from the list of accounts/recepients you added earlier into your TransferWise account.

3. Review Details Of Your Transfer.
Now you can review the details of this transfer and confirm that everything is correct. Then you press the "Confirm and continue" button.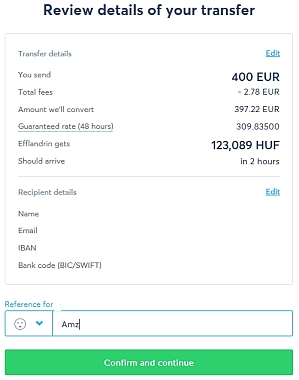 4. How Would You Like To Pay?
On the next window, you will be asked to choose how you want to pay for the transfer. There are many options, but I will stick to using the funds in your TransferWise borderless account for this transfer. Select the option that you want. Once you click pay, that it. The transfer will begin and you should receive funds in around two hours (this has been the case for me) for an account in Europe.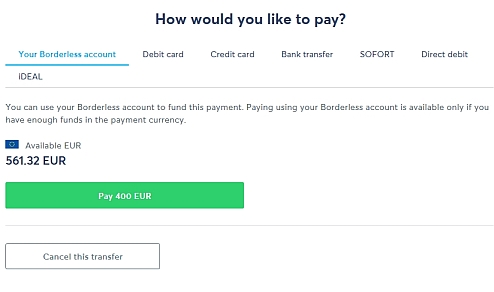 TransferWise will calculate how much time it takes to send the money over to your local account and you display it in the next window as you can see in the image below.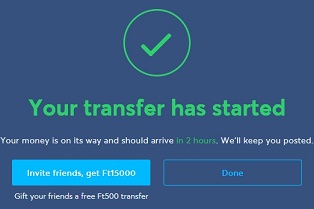 That's all, it really is as simple as that. The transfer I show in the images above was done on a Friday afternoon and I received payment to the local account that same day, just in time for the weekend.
NOW ACTIVE! Transferwise Euro To Euro Transfers.
NOVEMBER 2018 HUGE UPDATE: I was about to make a transfer today and while setting up my currencies, I noticed something strange. both boxes were filled with EUR & EUR. I was shocked and had to look closer. It was real, my account now allows EURO to EURO transfer with very good looking fees. I will update this section further when I do a test transfer. I'll break down the costs, transfer time etc.
This opens up so many options to me now. I can now send money to moms' or sisters' os my eur accounts while skipping the intermediate EUR to HUF to EUR step. I am so happy right now. Thanks transferwise for simply being awesome and please keep up the innovation.
For now TransferWise doesn't have the possibility to do Euro to Euro transfers. So what I do is, I transfer all of the Euros I need to transfer from my Transferwise account to my Hungarian bank account and then make a transfer from Hungarian forints to Euro and pay by the debit card associated to that Hungarian bank account.
I save money in euro on my main personal account. This is a way I got around this and even though it cost me a little bit of money, it's still a profit overall considering that I'm getting very good conversion rates between Euro and Hungarian forints.
Transferwise Borderless Bank Account Mastercard Debit Card 2018.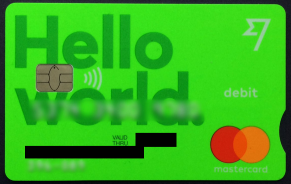 Transferwise is launching their debit card service this year in 2018. A select group of clients have already been contacted to try out this debit card which will be launched soon to every customer that has a personal bank account (not business bank account) with TransferWise.
Here is a direct quote from TransferWise themselves https://transferwise.com/help/article/2914393/transferwise-debit-mastercard/when-can-i-get-a-debit-card:
"We're currently issuing cards by invitation-only to a small number of customers, but don't worry they'll be available to everyone in UK, EEA and Switzerland very soon! We'll email all borderless account-holders as soon as debit cards are available so don't worry, we'll let you know.
If you'd like us to let you know as soon as you can get a debit card, just make sure your borderless account is set up and you've activated at least one currency. Then enter your details here."
I have currently registered to be notified when the card will be available to me and I will keep you guys updated with this.
In Conclusion
I am very happy to have found this system. All the money saved using TransferWise will be invested back into my business or put in my savings account. I'm happy to finally be full control of what I receive in my pocket from Amazon.
I hope you enjoyed reading my journey. If you're looking to beat the traditional banks' conversion rate fees then look no farther than TransferWise. I can recommend them based on my experience so far. I will continue to update this page with whatever new information or life experience I get using this service.
The possibilities to collect money in other currencies with minimal loss are now open to you as well. In whatever business you deal with it, you can now collect foreign currencies and transfer to your local currencies for very cheap. For now, I withdraw all the money sent to my transfer account from my business on Amazon.
If you have any specific questions feel free to use the comment section below. I will get back to you ASAP. If you have or want to share your experience with Transferwise or other similar online transfer services, please share with us. I will highly enjoy reading them as well.
I wish you all the best in your business and life endeavours. See you in my next post.
Take care.
Rob